Emergency Response Research Webinar Series

Free webinars typically held on the second Wednesday of the month. Special webinars on COVID-19 research are conducted as research results become available. 
EPA's Office of Research and Development hosts this webinar series to share current research activities and results. This webinar series covers the latest information on research supporting EPA's response to chemical, biological, and radiological incidents, as well as natural disasters. This forum allows EPA to communicate directly with partners and stakeholders to foster collaboration and dissemination of information. 
NOTE: Attendees have the option of receiving a certificate of attendance. Acceptance of certificates is contingent on organization requirements—EPA cannot guarantee acceptance. Closed-captioned recordings of the webinars are provided below for later viewing and as a training resource; certificates cannot be provided for viewing webinar recordings. Webinar dates and topics are subject to change.
Upcoming Webinar
Twenty Years of Homeland Security Research: How it Started and Where We Are Now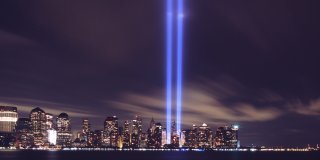 September 16, 2021, 2:00-3:00 PM ET 
Register for the webinar via Zoom
About the Webinar
U.S. EPA played a key role in the nation's response to the events of September 11th and the Amerithrax incident shortly thereafter. This webinar will provide an account of EPA's emergency personnel responsibilities and expertise during the 2001 Amerithrax incident, where letters containing anthrax spores contaminated the Brentwood post office in Washington, D.C., as well as the Hart Senate Office Building on Capitol Hill. Speakers will discuss how this incident and the events of September 11th necessitated the establishment of a Homeland Security Research Program at U.S. EPA. This Program provides scientific and technical expertise to help the United States to prepare for, respond to, and recover from a potential or active chemical, biological, or radiological attack. Through the years, the Homeland Security Research Program has built up capability through a foundation of research to assist emergency responders and decision-makers on a number of incidents, such as ricin, water contamination, Fukushima, and Ebola. The Program continues to develop capability to respond to large-scale contamination incidents and improve the ability of water utilities to prevent, prepare for, and respond to water contamination that threatens public health. As the Program fulfills its mission by responding to current events, such as the COVID-19 pandemic, fentanyl contaminations, and cyberattacks on critical infrastructure, it also look to the future to apply what we know now to what's potentially to come and ensure the United States is able to prepare for, respond to, and recover from those events.
Speakers
Mark Durno, EPA Region 5 On-Scene Coordinator
Tim Oppelt, Former Director of EPA's National Homeland Security Research Program
Gina Perovich, Director of EPA's Chemical, Biological, Radiological and Nuclear Consequence Management Advisory Division in the Office of Land and Emergency Management
David Travers, Director of EPA's Water Security Division in the Office of Water
Shawn Ryan, National Program Director for EPA's Homeland Security Research Program in the Office of Research and Development
2021 Schedule
Additional information and registration links will be provided in advance of each webinar.
Date

Topic and Presenter(s)

October 13, 2021
COVID-19 Research: RV-RTPCR


Presenter: 

Sanjiv Shah, EPA Office of Research and Development
December 8, 2021

TBD 
Presenters: TBD
Past Webinars
Recordings and other materials from past webinars are available below. Recordings are hosted on EPA's YouTube channel. Certificates cannot be provided for watching the webinar recordings.
Date

Topic and Presenter(s)

August 12, 2021

COVID-19: Aerosol Treatment Devices & Ozone Disinfection
Presenters: Katherine Ratliff, Lukas Oudejans, EPA Office of Research and Development

July 15, 2021

Presenters: Joseph Wood, Matthew Magnuson, EPA Office of Research and Development
June 28, 2021

Presenters: Shawn Ryan, Worth Calfee, Katherine Ratliff, Lukas Oudejans, Joseph Wood, EPA Office of Research and Development; Kristen Willis, EPA Office of Pesticide Programs
May 12, 2021



Presenters: 

Matthew Magnuson, EPA Office of Research and Development; Michael Kaminski, Argonne National Laboratory
April 29, 2021

Presenters: John Archer and Anne Mikelonis, EPA Office of Research and Development
April 14, 2021
Lessons Learned from Fukushima
Presenters: Sang Don Lee, EPA Office of Research and Development; Kathryn Snead, EPA Office of Air and Radiation
March 18, 2021
Building Resiliency: Emergency Water Treatment System
Presenters: James Goodrich, EPA Office of Research and Development; Mark Hogg and Kurtis Daniels, WaterStep
January 21, 2021
COVID-19: UV-C Devices and Methods for Surface Disinfection
Presenters: Katherine Ratliff, Lukas Oudejans, EPA Office of Research and Development
November 12, 2020

Presenter: Timothy Boe, EPA Office of Research and Development
August 27, 2020
COVID-19 Long Lasting Disinfectants
Presenters: Gregory Sayles, Shawn Ryan, Worth Calfee, EPA Office of Research and Development; Kristin Willis, EPA Office of Pesticide Programs
May 27, 2020
EPA Expands Research on COVID-19 in the Environment
Presenters: Gregory Sayles, Timothy J. Wade, Kevin Oshima, Jay L. Garland, EPA Office of Research and Development
2019
Neutralization and Attenuation of Ricin Toxin
Presenters: Joseph Wood, EPA Office of Research and Development
2018
Premise Plumbing Research in EPA's Homeland Security Research Program
Presenters: Jeff Szabo, Helen Buse, John Hall, Jim Goodrich, EPA Office of Research and Development
2018
Removal of Organic Contaminants from Polyethylene Drinking Water Pipes by Flushing
Presenter: Levi Haupert, Matthew Magnuson, EPA Office of Research and Development
2018
Underground Transportation Restoration Research
Presenters: Lukas Oudejans, EPA Office of Research and Development

2017

Responding to a Chemical Warfare Incident: From Sampling and Analysis to Decontamination and Waste Management
Presenter: Stewart Willison, Lukas Oudejans, EPA Office of Research and Development

2015

E

PA's Water Security Test Bed




Presenter: 

Jim Goodrich, EPA Office of Research and Development

2015

Efforts to Enhance US Radiochemistry Capacity and Capability
Presenters: Kathy Hall, EPA Office of Research and Development; John Griggs, EPA Office of Radiation and Indoor Air

2015

TEVA-SPOT Consequence Evaluation Module and EPA-RTX
Presenter: Robert Janke, EPA Office of Research and Development
2014
USGS/EPA Collaboration: Bacillus anthracis in American Soils: From Sample Collection to Data Application


Presenters: 

Erin Silvestri, EPA Office of Research and Development; Dale Griffin, US Geological Survey
2014
Remediation of Soils Contaminated with Bacillus anthracis Spores
Presenters: Joseph Wood, Erin Silvestri, Charlena Bowling, EPA Office of Research and Development
2014
Decontamination of Drinking Water Infrastructure
Presenter: Jeff Szabo, EPA Office of Research and Development
2014
Decontamination Strategy and Technology Selection Tool (DeconST)
Presenter: Shawn Ryan, EPA Office of Research and Development