Steps to Become a Green Power Community
The steps to join EPA's Green Power Partnership as a community are simple and easy. The following graphic illustrates two different paths that communities can take to become an EPA Green Power Community (GPC).
For information on how an organization can join the Green Power Partnership please visit our "Join as an Organization" webpage.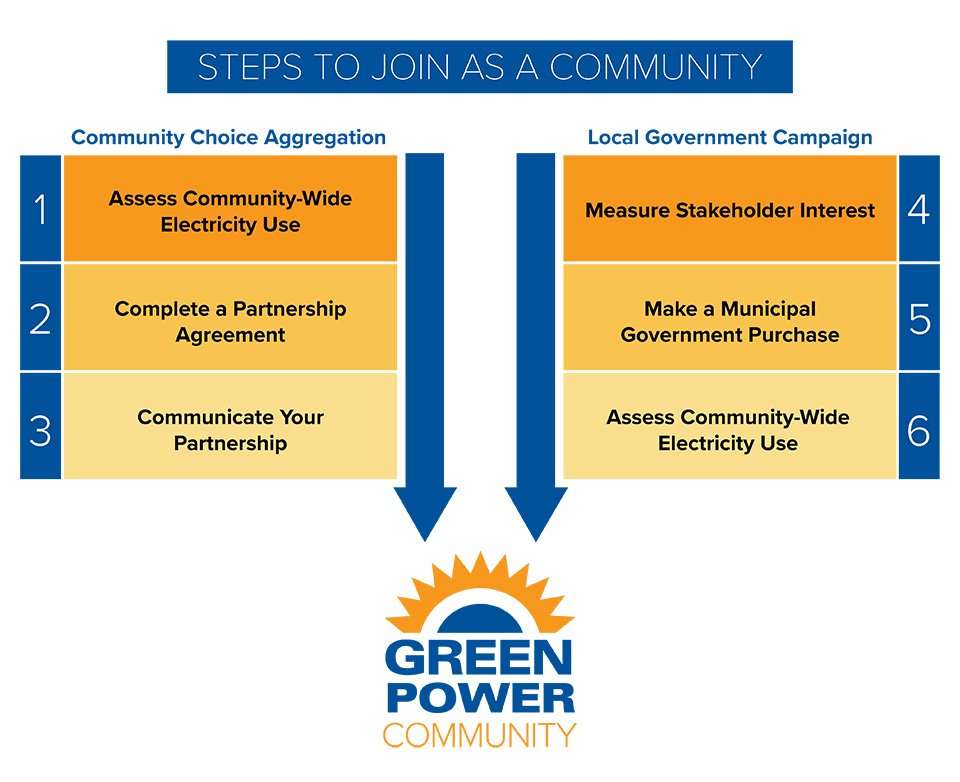 For additional information on EPA's usage requirements, eligible resources, eligible supply options, and other requirements, please consult the Partnership Requirements (pdf).
Community Choice Aggregation (CCA) Path
Local Government Campaign Path
Connect with EPA – Contact us to learn more and ask questions about becoming a Green Power Community. EPA can discuss with you examples of other, similar communities who have achieved Green Power Community status.
Measure stakeholder interest – Under this path, the local government—often in coordination with the local utility's green power supply program—will challenge the community to purchase and use green power in amounts that collectively meet EPA's minimum green power use requirements. The local government, as the champion of the community green power campaign, may choose to first assess community stakeholder interest in participating in the campaign and becoming an EPA Green Power Community.
Make a municipal government purchase – EPA requires that, as part of the local government campaign path, the local government purchase green power and join the Green Power Partnership as an organization. This is an important step in taking a leadership position within the community and rallying support among community members.
Assess community-wide electricity use – Assess the total amount of electricity use across all governmental, commercial, institutional, and residential electricity consumers within the community's geographic boundaries. Your local utility can be helpful in determining the community's total electricity use, as well as the amount of green power use. At least 5 percent of the community's total annual electricity use must come from eligible sources (pdf) for a community to be recognized as an EPA Green Power Community.
Launch your green power campaign – Raise awareness within the community of the green power campaign and the community's interest to become an EPA Green Power Community.
Complete a Partnership Agreement – Complete a community Partnership Agreement (xls) and submit it to EPA. Each community will be assigned an account manager with EPA's Green Power Partnership.
Communicate your Partnership – One of the benefits afforded to Green Power Communities is that each will receive two street signs (pdf) from EPA that can be placed in the community to signify your status as an EPA Green Power Community. EPA is also available to support your communications objectives around your Partnership with EPA.
Report Green Power Usage Annually – All Partners are required to provide an annual update with the Green Power Data Report to EPA regarding the Partner's annual green power use. EPA will annually provide each existing Partner a green power data report that includes all previously reported information on record. The Partner is required to update the spreadsheet with any changes in green power use and return the spreadsheet to EPA.
Learn more about: