Green Power Partnership Fortune 500® Partners List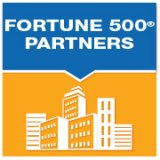 As of April 24, 2023, the combined annual green power use of EPA's Top Fortune 500 Partners amounts to more than 66.7 billion kilowatt-hours of green power, which is equivalent to the annual electricity use of nearly 6.3 million average American homes.
---
Usage figures are based on annualized Partner contract amounts (kilowatt-hours), not calendar year totals. These rankings are updated on a quarterly schedule. Find out how your organization can partner with EPA today!
| Partner Name | Annual Green Power Usage (kWh) | GP % of Total Electricity Use* | Industry | Green Power Resources |
| --- | --- | --- | --- | --- |
* Reflects the amount of green power as a percentage of total electricity use. Partners choosing to purchase green power in an amount exceeding 100 percent of their U.S. organization-wide electricity use are listed as such.
° Indicates Provider is selling Partner a third-party certified green power product. Get more information on third-party certification.
Current and past Top Partners lists are available for you to view and print.
For additional information on how your organization can join these Top Partners as Green Power Partners, learn how to Become a Green Power Partner.