Megacities Partnership
The U.S. Environmental Protection Agency's Megacities Partnership provides national and local policy makers with a framework by which to develop and implement comprehensive action plans to address air quality and improve public health in cities.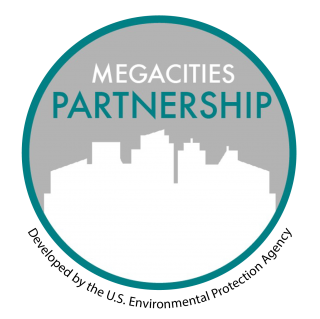 On this page:
Overview
The Megacities Partnership is a collaboration with local governments to achieve relevant, locally motivated, and evidence-based air quality management goals, including an Air Quality Management Plan (AQMP), development of policies and future air quality scenarios, analysis of baseline health burden and/or others. The Megacities Partnership does not provide financing for equipment or capital, but rather focuses on capacity building and coordination between local agencies to enhance air quality management. Overall, the partnership provides local and national policy makers with a framework by which to develop and implement a comprehensive action plan to address air quality and improve public health in urban centers.
A series of templates have been developed, one for each step in the process, to help provide structure and guidance for local governments that want to undertake some or all of the steps in this process on their own.  EPA is making this package of templates and examples freely available for anyone who wants to implement the framework. The templates are available in English, Spanish and Russian and can be accessed through the links provided in the table below.  They can and should be modified to reflect the specific circumstances on the ground in each location to which they are applied.  In addition to each template, some examples are also provided where these templates have been applied to specific cities.  These examples show how the templates can be modified to fit the local conditions.
Templates and Resources
Videos
This is the first in a series of four videos and provides an overview of the Partnership, including the air quality management model that motivates this program.
This is the second in a series of four videos and describes the scoping and inception phases of a Megacities Partnership, which involve gathering information about the city and identifying any gaps in air quality management.
This is the third in a series of four videos and focuses on data collection and technical analysis.
This is the final video in a series of four that focuses on communication, public participation, and air quality management planning.
Partnership Accomplishments
The pilot cities of Accra, Ghana and Santiago, Chile were selected for the implementation of the Megacities Partnerships platform based on consultation with international, regional and country partners and established selection criteria such as (i) national level commitment to air quality management; (ii) participation in Climate and Clean Air Coalition (CCAC) efforts to identify and implement measures to address air quality and short-lived climate pollutants; (iii) presence of other related on-the-ground air quality programs; and (iv) willingness to serve as a regional leaders. Notwithstanding the extremely different circumstances related to air quality management in terms of technical capacity and resources encountered in Accra and Santiago, both efforts in implementing the Megacities Partnerships platform were very successful. Based on lessons learned from the efforts in those pilot cities and on the same selection criteria, Addis Ababa, Ethiopia and Lima, Peru were chosen for implementation of the platform. This clearly illustrates the versatility and adaptability of the platform to a wide range of experiences and capacities on air quality management in future partnerships.    
Accra, Ghana
Final Accra Air Quality Management Plan launched August 2018
Ghana staff conducts health benefits assessment and ambient monitor sample analysis
Leveraged additional investments of over $2 million from the Climate and Clean Air Coalition, World Bank, Global Alliance for Clean Cookstoves
Deployed low cost sensor network and associated data management system as model for other developing countries
Support transition to World Bank led implementation
Addis Ababa, Ethiopia
Final Air Quality Management Plan launched in June 2021

In the Addis Ababa Region, a multi-agency air quality management workgroup estimated that in 2017, 2,700 lives were prematurely lost due to the effects of air pollution, or about 21% of all non-accidental deaths in the 25 to 99-year-old age group. 
Without action to control air pollution, by 2025, this figure is estimated to rise to 6,200 and account for 32% of deaths in this age group.   

  

Local and national level government, academic, and non-governmental organization staff trained in air quality management and health benefit assessment, which produces the estimates that formed the foundation for the AQMP.
Leveraged additional investments and supported transition to project implementation by C40 and the World Bank
Santiago, Chile
Completed comprehensive assessment of the benefits and costs of air quality management in the Santiago Metropolitan Region over the past three decades - Final Report

Roughly 80,000 premature deaths avoided since 1990 due to improved air quality stemming from environmental controls
Estimated benefits of $25 billion compared with $720 million in costs

Conducted quantitative assessment of the effectiveness of Ministry of Environment critical episode management system - Final Report

Evidence that critical episode declarations improve air quality by six percent on average across the Santiago metropolitan area for Alert episodes and by nine percent on average for Pre-emergency and Emergency episodes together
Estimated benefits and costs of episode declaration on average for the year: declaring an Alert episode yields $24 million in benefits compared with $7 million in costs; and declaring a Pre-emergency or Emergency episode yields $16 million in health-related benefits and $46 million in total benefits
Lima, Peru
Completed a cost benefit analysis of air quality management policies for the transportation sector in the Lima-Callao region in Peru - Final Report

Evidence that PM2.5 concentrations in the Lima-Callao region represent a substantial public health concern.

Estimate over 10,000 deaths each year from PM2.5 exposure in the Lima-Callao region at an economic cost of $12.8 billion USD annually

The transportation sector represents a major contributor to ambient PM2.5—and premature mortality—in the Lima-Callao region resulting in 5,150 to 6,200 premature deaths annually, equating to $6.2 to $7.5 billion in economic costs

Provided technical capacity building on transportation sector emission measurement technologies and techniques