TRI for Tribal Communities
Toxics Release Inventory (TRI) data allow tribes to identify sources of toxic chemical releases that may impact the health of their communities, track changes in these releases over time, and prioritize efforts to reduce pollution from nearby facilities.
To learn more about the basics of the TRI Program, see "Learn More about the Toxics Release Inventory."
On this page:
---
How can tribes quickly get TRI information?
The TRI Tribal Search Interface below provides interactive charts to easily access summary-level data about industrial toxic releases from TRI facilities located on or within 10 miles of tribal lands. For tips on how to use the Tribal Search Interface, see the TRI for Tribal Communities Fact Sheet above.
How many TRI facilities are on tribal lands?
In 2018, there were 43 facilities located on tribal lands associated with 19 different federally recognized tribes. These facilities reported a total of 13 million pounds of releases, more than 99% of which were on-site releases to air, water, or land.
Lists of Tribes and Facilities in 2018
How can tribes access more in-depth TRI data?
TRI Tribal Advanced Search Dashboard
Use the TRI Tribal Advanced Search Dashboard to:

view an extensive set of interactive charts about TRI reporting on or near tribal lands,
search for specific tribe(s), and
better understand releases from TRI facilities located near tribal communities.
TRI Explorer Tribal Data
Use the TRI Explorer to access:

automated, online fact sheets about toxic industrial releases in Indian Country,
data about toxic releases from TRI facilities on or near tribal lands, and
data about industry sectors' toxic releases on or near tribal lands.
2018 TRI National Analysis Tribal Data
Use the National Analysis "Where You Live" tool to:

map TRI facilities located on tribal lands, with links to 2018 TRI data about those facilities, and
view interactive charts of Indian tribes with TRI-reporting facilities on their lands, indicating which industry sector and chemicals accounted for the majority of toxic disposal or other releases for 2018 (the charts are located in the "Tribal Communities" section).
Map of TRI Facilities + Facility-Level Data
There are other online TRI tools as well as resources for understanding and using the data. See the full list on the TRI Data and Tools webpage.
Are tribes at risk from toxic chemical releases on or near their lands?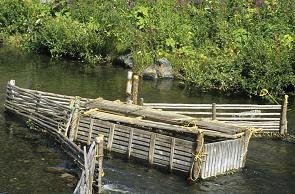 The answer depends on many factors, such as:
the toxicity of the chemical(s) released,
the quantity of the chemical(s) released,
the route of exposure (air, water, land),
how often a person was exposed, and
the fate of the chemical in the environment.
TRI has some of this information. TRI data provide estimates of quantities of toxic chemicals that are released to the environment, as well as information on how those chemicals are managed prior to or instead of being released. These data can be used to identify potential toxic chemical hazards near tribes; however, release estimates alone are not sufficient to determine exposure or to calculate potential risks to human health and the environment.
To estimate immediate or long-term risks in your community, TRI data should be combined with other information, such as the toxicity of the chemical and the chemical's transportation and fate. Find out more about TRI and estimating potential risk, or browse Factors to Consider When Using TRI Data.
Is there help available for tribes concerned about toxic chemical releases?
Yes, a variety of resources are available to assist tribes.
Tribal Contacts
TRI Program Regional Coordinators: Tribes concerned about toxic chemicals released from specific industrial facilities may contact the TRI Coordinator in their region.
EPA Tribal Program Managers: Tribes are encouraged to contact the Tribal Program Manager in their region with questions about facilities near tribal communities.
Online Tools