Laboratory Services and Applied Science Divisions (LSASDs)
On This Page
The Regional Laboratory Network applies scientific principles to support regulatory programs, monitoring programs, and special projects. The 10 Regional laboratories:
integrate lab activities with field monitoring and quality assurance activities to develop a comprehensive approach to environmental programs, and 
provide a full range of routine and specialized chemical and biological testing of air, water, soil, sediment, tissue, and hazardous wastes to support agency decisions and goals.
EPA's LSASDs are key to the agency meeting its mission through performing analytical and other work that:
practices sound science,
implements the principles of environmental protection, and
promotes partnerships with states, tribal nations, and local governments.
Applied science technologies and practices support the agency's programs.  The Regional Lab Network, Field Operations, and Quality Assurance programs also provide technical assistance and expertise within the agency and with external partners.
Individual Regional labs have specific capabilities and expertise due to unique geographic issues and needs.
Regional Laboratory Network
Regional Laboratory Websites
Click on the map below to learn more about the laboratory in each Regional office.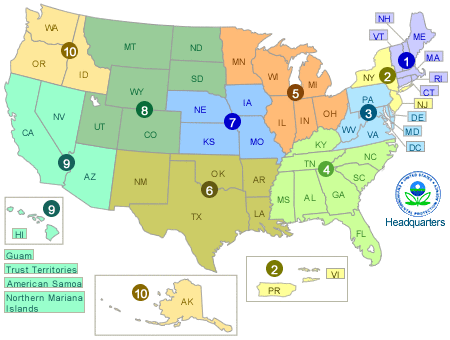 Laboratory Services and Applied Science Divisions Contacts
Regional LSASD Directors  
Regional LSASD Deputy Directors
Lead Region Coordinator: Amy Johansen, (215)-814-2156;
Regional Laboratory Managers 
 Regional Field Operations 
This list includes the names of those within the LSASD that have the function of collecting field samples and supporting collection efforts. Some LSASD regions may not have this function as part of their organization.  1Field Contacts not within the LSASD.  
Regional Quality Assurance Managers  
EPA Quality Assurance Managers are tasked with reporting on quality issues to their senior management, providing independent oversight, and assuring the implementation of the organization's quality program. This individual must function independently of direct environmental data generation, model development, or technology development responsibility. The Order also defines the responsibilities of the Quality Assurance Manager and other quality management personnel to include: 
Facilitating the development of and maintaining the organization's Quality Management Plan
Representing the organization on matters pertaining to quality management
Providing expert assistance to project personnel on quality assurance and quality control issues
Developing and implementing a Quality Assurance Training Program
Reviewing and/or approving quality management documentation 
providing quality management support to project personnel
Overseeing and assessing the Organizations quality program 
Regional Quality Assurance managers are housed within various locations within the regions and a complete list of contacts is available: RQAM Contacts 
Regional Laboratory Addresses 
Region
Address
Regional Coverage
Area
1

Laboratory Services and Applied Science Division
11 Technology Drive
N. Chelmsford, MA 01863

CT, ME, MA, NH, RI, VT
2
Division of Environmental Science & Assessment
2890 Woodbridge Ave.
Building 10 (MS-100)
Edison, NJ 08837-3679
NY, NJ, Puerto Rico, Virgin Isl.
3
Environmental Science Center
701 Mapes Road
Ft. Meade, MD 20755-5350
PA, DE, DC, MD, VA, WV
4
Laboratory Services and Applied Science Division
980 College Station Rd
Athens, GA 30605
GA, AL, FL, KY, MS, NC, SC, TN
5
Chicago Regional Laboratory
Mail Code LAB-10C
10th floor
536 South Clark Street
Chicago, IL 60605
IL, IN, MI, MN, OH, WI
6
Laboratory Services and Applied Science Division
Houston Laboratory
10625 Fallstone Rd
Houston, TX 77099
AR, LA, NM, OK, TX
7
Region 7 Science and Technology Center
Laboratory Services and Applied Science Division
300 Minnesota Ave.
Kansas City, KS 66101
IA, KS, MO, NE
8
US-EPA Region 8 Lab
Denver Federal Center, Building 25
Lakewood, CO 80225
CO, MT, ND, SD, UT, WY
9
Region 9 Laboratory
1337 South 46th St
Building 201
Richmond, CA 94804
AZ, CA HI, NV, Am. Samoa, Guam
10

Region 10 Laboratory
Laboratory Services Branch
7411 Beach Drive East
Port Orchard, WA 98366

AK, ID, OR, WA