WaterSense
Take steps each day to save water and protect the environment by choosing
WaterSense labeled products
in your home, yard, and business.
Learn more
about WaterSense and how we can all get more by using less.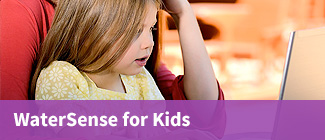 Did You Know?
Remember, the toilet is not a trashcan. Flushing the wrong things can cause problems in your plumbing, sewer, septic system, or at your local wastewater treatment plant. Please don't flush disinfecting wipes.