WaterSense
Take steps each day to save water and protect the environment by choosing
WaterSense labeled products
in your home, yard, and business.
Learn more
about WaterSense and how we can all get more by using less.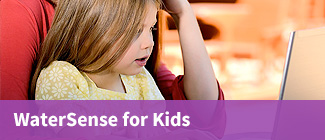 Did You Know?
A water-smart yard doesn't mean a sad yard.  Check our Pinterest postsExit to see examples of a beautiful #WaterSavingYard from around the U.S.  Listen to Mother Nature this Earth Day and plant the seeds for a beautiful, healthy landscape that requires less water and less maintenance. Learn more!