WaterSense
Take steps each day to save water and protect the environment by choosing
WaterSense labeled products
in your home, yard, and business.
Learn more
about WaterSense and how we can all get more by using less.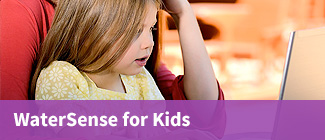 Did You Know?
Easy-to-fix water leaks account for nearly 1 trillion gallons of water wasted each year in U.S. homes. Leaks don't have to be complicated once you know what to look for. Learn how to get a handle on leaks on our Fix a Leak Week page!