WaterSense
Take steps each day to save water and protect the environment by choosing
WaterSense labeled products
in your home, yard, and business.
Learn more
about WaterSense and how we can all get more by using less.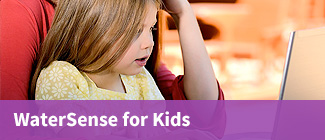 Did You Know?
WaterSense labeled products not only save water, but can help reduce your energy bills. To date, WaterSense partners helped Americans save $63.8 billion in water and energy bills. We've helped reduce the amount of energy needed to heat, pump, and treat water by 367 billion kilowatt hours. Read our all new accomplishments report now!