WaterSense
Take steps each day to save water and protect the environment by choosing
WaterSense labeled products
in your home, yard, and business.
Learn more
about WaterSense and how we can all get more by using less.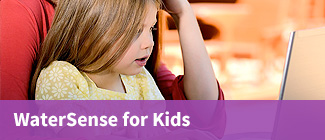 Did You Know?
Common types of leaks found in the home are worn toilet flappers, dripping faucets, and other leaking valves. These types of leaks are often easy to fix, requiring only a few tools and hardware that can pay for themselves in water savings. Learn more about leaks here!