WaterSense
Take steps each day to save water and protect the environment by choosing
WaterSense labeled products
in your home, yard, and business.
Learn more
about WaterSense and how we can all get more by using less.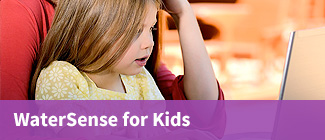 Did You Know?
By replacing a showerhead with a WaterSense labeled model, the average family can save more than 2,700 gallons of water each year. A WaterSense labeled showerhead can also save the amount of electricity it takes to power the average family's home for 11 days and reduce their annual water and energy costs by more than $75!  Learn how you can shower better!