Learn about WaterSense Partnership
EPA created WaterSense as a credible, national brand with a strong and consistent water-efficiency message. Working together, we can promote the value of water and help consumers and organizations make smart choices regarding water use and water-using products.
On this Page:
---
About WaterSense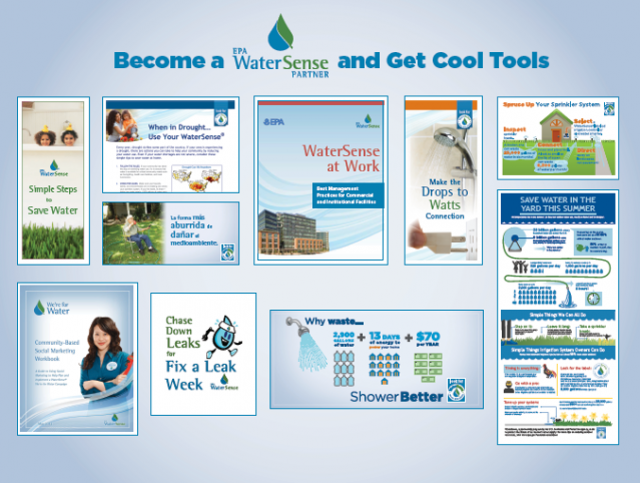 Water is in high demand and short supply in many markets. Using water efficiently makes sense for consumers, communities, and the environment—today and for future generations. Faced with population increase, supply issues, aging infrastructure, extreme weather, inefficiency, and waste, it's time to amplify your water-efficiency efforts. Many organizations don't have the staff or resources to develop materials to help them communicate the need to use water more efficiently.  WaterSense may be a good fit for your organization.
WaterSense Partner Types
WaterSense works with several different types of organizations:
| Organization Type | WaterSense Partner Type | Partner Role |
| --- | --- | --- |
| Builders | Builder | Build new homes in accordance with the WaterSense New Home Specification. |
| Distributors | Retailers & Distributors | Distribute WaterSense labeled products. |
| Licensed Certification Providers | Licensed Certification Professionals | Hire or contract with inspectors, train inspectors, oversee new home inspections, and issue certification decisions for inspected homes to earn the WaterSense label. |
| Manufacturers | Manufacturer | Manufacture products eligible to earn the WaterSense label. |
| Nonprofit Organizations | Promotional | Promote WaterSense and water efficiency. |
| Professional Certifying Organizations | Professional Certifying Organizations | Meet the requirements of the WaterSense Professional Certification Program Labeling System and sponsor or adopts a professional program that meets WaterSense specifications for certification programs. |
| Retailers | Retailers & Distributors | Sell WaterSense labeled products. |
| Trade Associations | Promotional | Support members that are eligible to join as a WaterSense partner. |
| Utilities/Water Districts/Government Agencies (state, federal, and local agencies) | Promotional | Promote WaterSense and water efficiency. Include environmental departments, municipal programs, local governments, water agencies, water districts, wholesalers, public utilities, private utilities, wastewater treatment facilities, water boards, and public utility commissions. |
Partner Benefits
Partnering with WaterSense is free and, as a WaterSense partner, you can take advantage of consistent national messaging to educate consumers on the importance of saving water for future generations and:
Participate in a national water efficiency brand the symbolizes the importance of water efficiency in the US.
Reduce research costs and increase consumer confidence by promoting water-efficient products that meet or exceed WaterSense performance criteria.
Gain access to materials that help you find out how other partners are promoting WaterSense and water efficiency and gain access to free collateral and media materials (e.g., public service announcements, fact sheets, brochures, press releases, and water-efficiency messages for utility customers).
Support campaigns such as Fix a Leak Week or We're for Water with tailored promotional materials.
Distinguish your organization from others with the WaterSense partner logo and gain recognition from EPA. You may even be able to win a WaterSense Partner of the Year award.
Participate in a national network of peers to share success stories, attend partner-only webinars, and receive regular program news and updates.