The WaterSense Current
Summer 2021 - Issue LVIII
The WaterSense Current is a quarterly update dedicated to news and events related to WaterSense. Sign up to receive The WaterSense Current and get WaterSense news delivered right to your Inbox. 
In This Issue:
---
Saving Water Together for 15 Years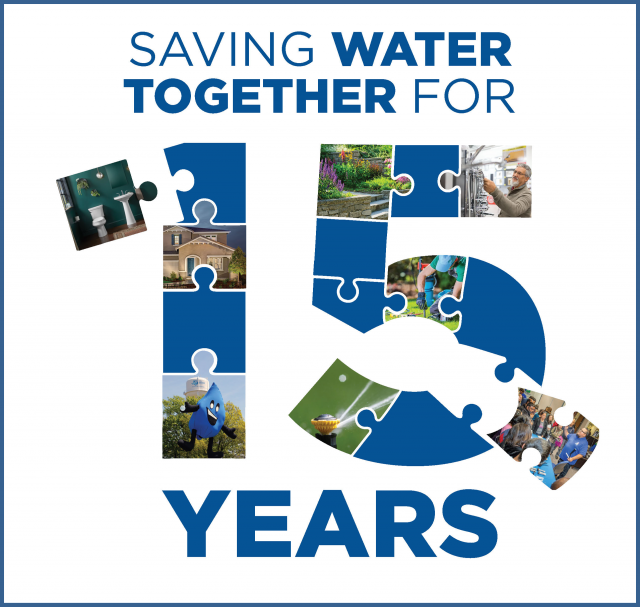 Did you know that WaterSense and its more than 2,000 partners have been combining efforts to help consumers and businesses save water for 15 years? By producing, selling, and promoting products, programs, and homes that use less water and perform well, WaterSense and its partners have saved a cumulative 5.3 trillion gallons of water and more than $108 billion in water and energy bills since 2006. That's as much water as what is used in 200 days by all U.S. households! Additionally, the use of WaterSense labeled products saved 603 billion kilowatt-hours of electricity.
Despite the challenges of the COVID-19 pandemic, WaterSense partners worked hard to achieve significant savings. With restrictions on gathering and social distancing, most could not hold in-person events, school visits, outreach, or inspections. Although they missed face-to-face interaction with their customers, many partners found creative ways to promote water savings remotely. From virtual workshops to revamped rebates and retail promotions, WaterSense partners safely stayed the course to help their customers save water.
On top of the impressive outreach, over 36,600 models of plumbing fixtures and irrigation equipment now bear the WaterSense label, which has transformed the marketplace for products that use water. WaterSense hopes to continue to promote a nationwide ethic of water efficiency to illustrate the value of water and the importance of saving this precious resource for future generations.
To read the full 2020 WaterSense Accomplishments report, visit www.epa.gov/watersense/accomplishments-and-history.

When in Drought, Turn to WaterSense
When drought season approaches, don't be left high and dry with water-saving ideas. Reducing water use inside and out during the warm, dry months of summer will save water for firefighting and other services that need it most. Make simple changes to your routine or install WaterSense labeled plumbing fixtures and irrigation equipment to stay one step ahead of dry weather.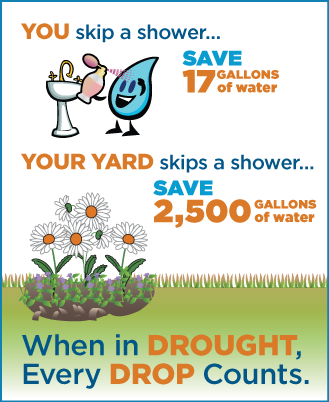 Give your sprinkler system a break! It's okay—and natural—for your lawn to turn a little brown during the summer months. By cutting back watering by 20 minutes, you could save more than 2,500 gallons of water. If your community is facing drought, temporary watering restrictions might be in effect. Be sure to respect these requests and do your part to ensure water is readily available for hospitals, utilities, and other essential services. Also, when adding new plants to your landscape, select native varieties that require little supplemental water outside of normal rainfall for your region.
Stock up on water savings indoors with WaterSense labeled plumbing fixtures. Swap out old showerheads and faucet aerators with WaterSense labeled models to save water and energy to heat this water every time you shower and wash your hands. Consider replacing your toilet with a WaterSense labeled model to save water with every flush, or at the very least, check your toilets for leaks that could be silently wasting water.
To learn more ways to save water during drought, visit www.epa.gov/watersense/drought-watersense.
Go With a Pro for Outdoor Savings
Did you know that July is Smart Irrigation Month? Maybe you're looking to improve the health and functionality of your landscape, but aren't the do-it-yourself type? If you are an irrigation novice, enlist the help of a professional certified by a WaterSense labeled program. If you are looking to install new equipment or want to spruce-up your current system, these professionals have demonstrated knowledge of water-saving techniques to help you reduce your outdoor water use, save money, and maintain a healthy and beautiful landscape by maximizing the efficiency of your irrigation system.
If you are starting from scratch, a professional certified by a WaterSense labeled program can help design and customize your irrigation system to suit your landscape and specific watering needs while taking into account your local climate. They will select the appropriate equipment and layout to make sure your system is as efficient as possible. This may include WaterSense labeled spray sprinkler bodies, a weather-based irrigation controller, and soil moisture sensors. A professional can also assist in programming your watering schedule or smart controller so you are only watering your lawn and plants when they need it.
Already have an irrigation system? An auditor certified by a WaterSense labeled program can inspect and test your current system to ensure it performs efficiently and can suggest upgrades or modifications for more water savings and a healthier landscape. Check out the Find a Pro tool on the WaterSense website to locate a certified professional in your area and whip that irrigation system into shape!

Get Creative With Your Curb Appeal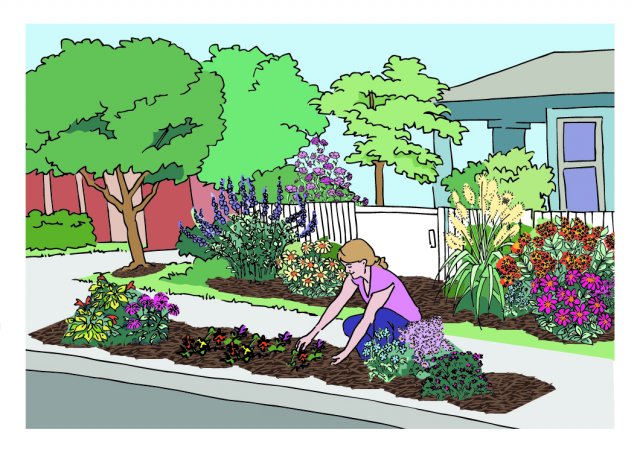 Is the strip of land between the sidewalk and the curb by your home looking lackluster? Or are you tired of mowing and watering the grass on that strip that you aren't using for any activities? Get creative with landscaping! By rethinking this space, you can achieve curb appeal and still save water. Replant with local, low-maintenance flowers and bushes that attract birds and bees, protecting these pollinators and making your neighbors green with envy. Select plants that are drought-tolerant and native to your region—they will need less water, making them easy to care for and attractive.
Once established, native plant varieties shouldn't need more water outside of normal rainfall, but if your new landscaping needs more than occasional hose watering, consider installing drip irrigation. This form of irrigation delivers water directly to where it is needed most—the root zone of plants. It also delivers the water slowly and over a longer period of time, preventing runoff and reducing evaporation.
Surround your new plants with mulch to promote healthy soil. Mulch not only looks nice, but helps soil retain moisture by preventing evaporation, which is good news for your landscaping and your water bill. Using mulch can also inhibit weed growth and prevent soil erosion. And when your newly landscaped area needs to be watered, be sure to do so in the morning or evening to avoid the mid-day sun.
West Coast Winning Streak
The Upper San Gabriel Valley (California) Municipal Water District made a splash with its water-saving outreach and earned its second WaterSense Partner of the Year award last year. To expand its reach to more residents, the Upper District offered educational materials in Simplified Chinese, as well as Spanish and English. The Upper District also engaged the commercial sector through water-smart landscape equipment retrofits and offering a new workshop on finding and fixing leaks for businesses.
Continuing with its rebate program, the Upper District issued incentives for WaterSense labeled products; this included 400 tank-type toilets, over 200 flush valve toilets, and nearly 400 weather-based irrigation controllers. In addition to its rebates, the agency installed over 40 WaterSense labeled weather-based irrigation controllers at large landscape sites that irrigate more than 125 acres of land as part of its Large Landscape Retrofit Program.
To engage children in its community, the Upper District held its annual "Water is Life" art contest focused on the value of water and received more than 150 submissions from 33 different schools. The agency also awarded water education grants totaling more than $14,000 to 16 teachers for projects involving K-12th grade students. And to promote the WaterSense label at events, the agency offered a selfie photo spot where attendees could snap a photo with the WaterSense label.
Savings Soar in Sacramento
The City of Sacramento (California) Department of Utilities upped its water-saving game to earn a Promotional Partner of the Year award last year. The utility's Leak-Free Sacramento program provides home leak repair assistance to customers in disadvantaged communities. In addition to this program, the utility sent nearly 15,000 letters to customers who might have leaks in their homes, based on their water use. After the mailing, Water Conservation Office representatives completed 2,600 free inspections to help customers identify and fix leaks in their homes. Additionally, more than 600 free WaterWise House Calls were completed, and the Water Conservation Office provided a web portal where customers could easily track their water usage.
In 2019, the City hosted its first annual Sacramento WaterWise Garden Showcase, where more than 120 homeowners learned about WaterSense labeled irrigation controllers and discussed water-wise plants and trees, then explored landscape design ideas with local professionals. The City of Sacramento also encouraged homeowners to "break up with their lawn" as an effort to reduce the water needed to irrigate residential landscapes during a three-week social media campaign.
To further promote outdoor water savings, the City of Sacramento issued rebates for over 1,000 WaterSense labeled weather-based irrigation controllers—twice as much as the previous year! The utility also offered rebates for drought-friendly landscaping. The impressive rebate participation in 2019 was attributed to the new instant rebate feature on an online e-commerce platform launched in partnership with the local electric utility provider that made it easier for customers to take advantage of the incentives.
Water Droplets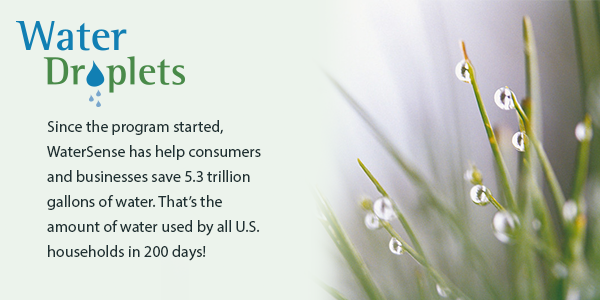 ---
The WaterSense Current Back Issues