The WaterSense Current
Summer 2022 - Issue LVII
The WaterSense Current is a quarterly update dedicated to news and events related to WaterSense. Sign up to receive The WaterSense Current and get WaterSense news delivered right to your Inbox. 
In This Issue:
---
Partners Help, People Save
WaterSense partners have been helping people save water for over 16 years. The WaterSense labeled products, homes, and programs that manufacturers, retailers, builders, utilities, and other organizations create and promote have helped consumers and businesses save 6.4 trillion gallons of water since 2006! More than one trillion of those gallons were saved in 2021 alone.
WaterSense and its more than 2,100 partners have also helped consumers save $135 billion on water and energy bills. By reducing the amount of energy needed to pump, treat, and heat water, WaterSense labeled products have helped save 754 billion kilowatt hours of energy since 2006. That amount could supply a year's worth of power to more than 750 million homes! Those energy savings eliminated 288 million metric tons of greenhouse gas emissions—the equivalent of planting 4.8 billion trees.
Whether you are looking to upgrade your bathroom or improve your landscape irrigation system, it is easy to find high-performing, water-efficient products by looking for the WaterSense label. More than 38,000 total WaterSense labeled product models are now available, including 18,869 different bathroom sink faucets; 11,465 showerheads; 6,120 toilets; 760 urinals; 777 irrigation controllers; and 341 spray sprinkler bodies.
Read more about WaterSense partners and how they help people save by reading the 2021 Accomplishments Report.
It's Not Too Late to Save Water Outdoors This Summer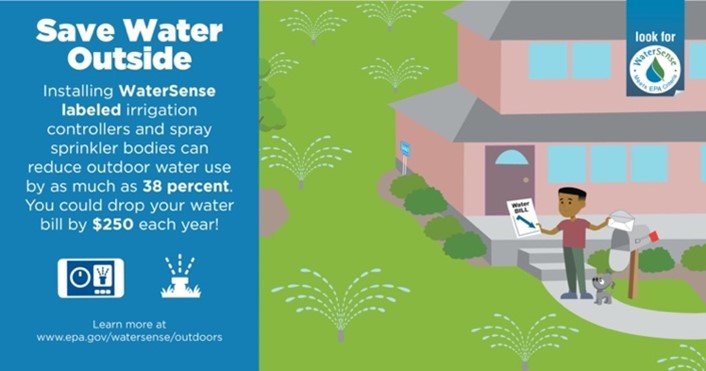 We may be nearing the end of Smart Irrigation Month this July, but the watering season is not over. It's not too late to incorporate water-efficient irrigation practices and technologies to save water outdoors. Consider replacing spray sprinkler bodies with WaterSense labeled models if your home's water pressure is higher than recommended for the system. Or install a WaterSense labeled weather-based irrigation controller or soil moisture sensor to water your landscape only when needed.
Installing a WaterSense labeled irrigation controller and spray sprinkler bodies in an in-ground system with high pressure can save more than 12,000 gallons of water annually! Watering smart is important, but also how you design your landscape can help you save water. When adding to your landscape, choose native plants that don't require irrigation outside of normal rainfall. Add mulch around your plants and in flower beds, too. Mulch helps prevent evaporation, keeps soil moist, and inhibits weed growth.
Need some help with your irrigation system? Find a local irrigation professional to inspect your current system, suggest any improvements, and install WaterSense labeled products. When hiring a professional to install or audit your landscape irrigation system, be sure he or she is certified by a WaterSense labeled irrigation program.
Do Your Part While in Drought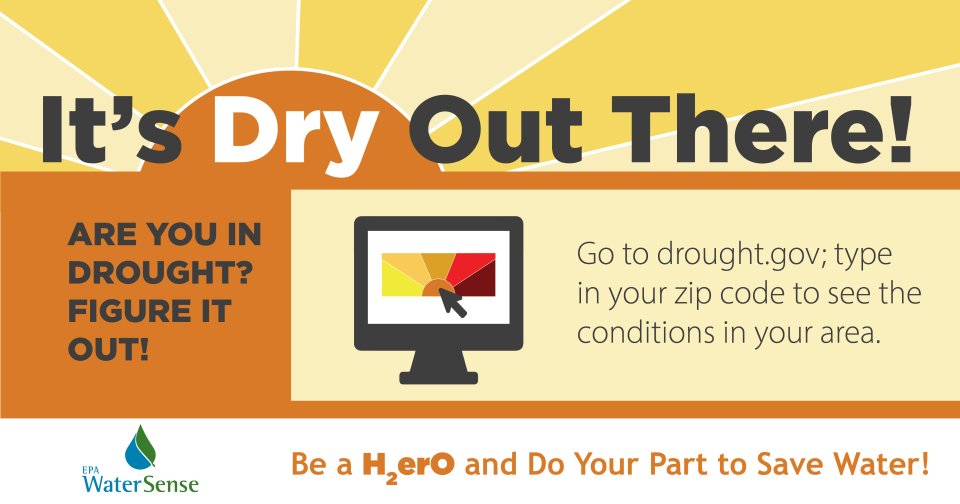 It's not unusual for dry spells to occur in the summer, but in recent years, droughts are happening in more areas of the country, lasting longer, and becoming more severe. While it's always important to conserve water, it's especially critical to save it for firefighting and other places it's really needed when drought causes water shortages.
Is your area in drought? Figure it out! Go to drought.gov to see if your region is affected and what level of drought you're in. Next, find your water provider to learn more about watering restrictions or opportunities to save. Some simple ways to cut back on your water use include scaling back landscape irrigation, repairing any broken or missing sprinkler heads, and selecting drought-tolerant plants that can withstand dry weather conditions. Indoors, start by finding and fixing leaks in your home. In need of an upgrade? Invest in plumbing fixtures that have earned the WaterSense label. You can even get creative reusing water; for example, you can collect water in a bucket while waiting for the shower to warm up and use it to water your plants or water for your pet bowl.
Many municipalities limit water use during drought season and may implement water budgets or limit outdoor irrigation schedules. Be sure to check with your utility for any new restrictions regarding water use that may be in place to ensure limited supplies are available for the essential services in your community. To learn more about how to prepare for drought, visit: https://www.epa.gov/watersense/drought-watersense.
Upper San Gabriel Valley Lowers Water Use With Virtual Campaigns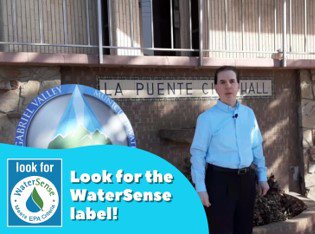 The Upper San Gabriel Valley (California) Municipal Water District earned its third WaterSense Partner of the Year Award as it pivoted its outreach in response to pandemic restrictions in 2020 to help customers save water. The District didn't let the challenges of social distancing stop it from celebrating its 60th anniversary, as it transformed its popular Conserve-a-palooza event into a five-week virtual campaign, featuring weekly water efficiency quizzes and raffles for prizes such as WaterSense labeled irrigation controllers. The District also shared water-saving tips during a "Water Smart Minute" video on its website and social media.
The District engaged a younger audience by reaching out to the principals of over 250 schools encouraging students to be leak detectives for Fix a Leak Week. Rather than in-person classes, the District also conducted six live landscape webinars for 150 participants, where speakers discussed WaterSense labeled irrigation products and how to find a certified irrigation professional. 
For many of its campaign materials, the District offers versions in English, Spanish, and Mandarin to promote water conservation to a wider audience in the Upper San Gabriel Valley community. To further encourage water savings, the Upper District offers rebates for WaterSense labeled toilets, urinals, and weather-based irrigation controllers.
Broward Water Partnership Gets Creative in Florida
The Broward Water Partnership in Fort Lauderdale, Florida, won its fourth WaterSense Partner of the Year Award, standing out for its creative use of digital advertising and promotional partnerships. Throughout the year, the Partnership promoted several WaterSense campaigns, but also created its own unique ones, including the Conservation Ambassadors—characters that promote water conservation and WaterSense labeled products on social media and in advertising.
To encourage residents to save water at home, the Partnership created the Water Whiz Challenge and promoted it via digital and print advertisements, social media, and email blasts. More than 200 residents submitted actions they took to protect water resources!
The Partnership used "geofencing" technology to digitally advertise directly to customers with smart phones who were located near local Lowe's Home Improvement and The Home Depot big-box stores. They also used GIS technology to target condominium addresses and owners from buildings constructed before 1994 that are eligible to receive rebates on WaterSense labeled fixtures to keep residents saving water throughout the pandemic.
The Broward Water Partnership conducted a study in 2020 to see how the pandemic affected water use to better understand what actions they could take to help residents save even more water. The study highlighted the need to increase outreach about WaterSense labeled faucet aerators and showerheads, which many of its partners offer free of charge.
City of Aspen Certifies Professionals for Irrigation Water Savings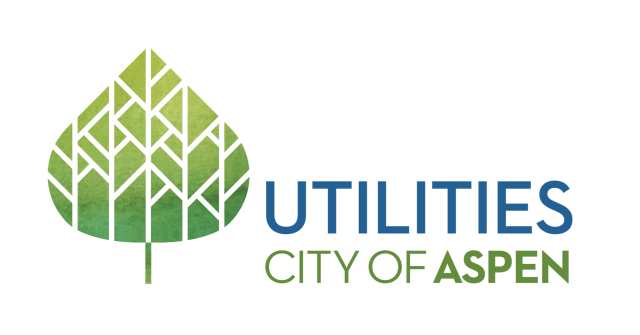 The City of Aspen (Colorado) may have faced challenges during the COVID-19 pandemic, but they were able to continue many award-winning activities, earning them their second Partner of the Year Award in 2020 for their professional certification program. The City offered its irrigation classes through Zoom and allowed participants to take tests online rather than having in-person sessions.
Even without in-person trainings, the City of Aspen expanded the reach of its program by developing a Spanish version of the Qualified Water Efficient Landscaper (QWEL) training to educate a larger audience of potential certified irrigation professionals. Additionally, the City offered a "train-the-trainer" program—designed to prepare certified QWEL graduates to lead 2020 trainings. The City of Aspen provided graduates with QWEL stickers that included the WaterSense label to promote their knowledge of QWEL and WaterSense labeled products. The City also continued to offer trainings to other water utilities around the state and provided curriculum and resources to those interested in offering their own QWEL trainings.
For the broader audience of Aspen's 7,500 residents and property owners (not to mention its ever-expanding base of seasonal visitors), the City's webpage on Water Wise Landscaping has a section dedicated to WaterSense and includes links to guides and webinars and case studies.
Water Droplets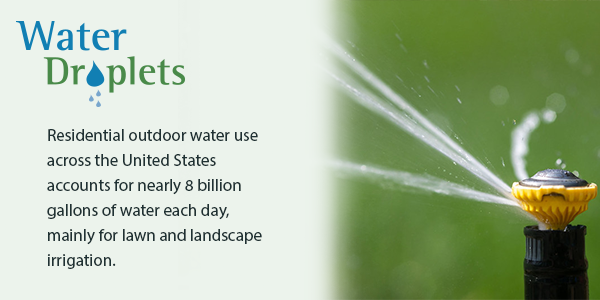 Past Issues of The Current