R1 Success Story: Swift Factory, Hartford, Conn.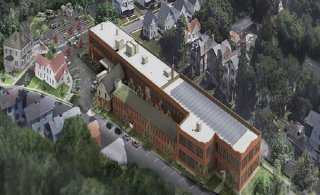 EPA Grant Recipient:
Community Solutions
Grant Types:
EPA Assessment Grant
EPA Revolving Loan Grant
Former Uses:
gold‐leafing factory
Projected Uses:
health care facility, food service and manufacturing, commercial and business space
Download Success Story:
Brownfields Success Story: Swift Factory, Hartford, Connecticut (pdf) (970.54 KB, September 2019, EPA 560-A-19-001)
A former gold‐leafing factory sprawling over 82,000 square feet in Northeast Hartford, the Swift Factory brownfields site is being turned into a community center focused on health care and innovative enterprises in the food industry. The Swift Factory, which operated for more than a century and hired over 300 people at its height, has been revitalized using green technologies and sustainable designs. It will create about 250 jobs in one of the city's most challenged neighborhoods and by helping to improve health outcomes and providing economic development opportunities, this $34 million project can spark a turnaround to help revitalize the community. Studies of Northeast Hartford have shown health challenges here related to life expectancy and diabetes as well as cardiovascular, respiratory, and infectious diseases. The area also faces high levels of unemployment and poverty and low levels of education. The Swift Factory project capitalizes on Northeast Hartford's proximity to downtown, its rich history, and its role as host of one of the country's largest urban parks, the 694‐acre Keney Park and golf course.
Priming the Property for Redevelopment
The Swift industrial building at 10 Love Lane, once an economic driving force in the neighborhood, was acquired in 2010 by Community Solutions, a non‐profit that aims to achieve a lasting end to homelessness that leaves no one behind. At the time of the purchase, contamination from the site's industrial past as far back as 1887 remained a challenge. Asbestos in building materials as well as lead, petroleum, and volatile organic compounds in soil and groundwater needed to be addressed. In 2010, the Connecticut Department of Economic and Community Development used $3,000 of its EPA Brownfields funding to help assess the types and amounts of contamination at the site. In 2018, the state provided $205,000 from its EPA Brownfields Revolving Loan Fund to address ground water and soil remediation at the factory. The state also provided its own funding with a $600,000 grant and a $3 million loan to help finance the remainder of the site cleanup and redevelopment. The DECD loan was used to repair and replace the roof in 2015 followed by demolition and building abatement in 2018. Demolition, abatement and remediation activities were complete in the summer of 2019 with final project completion expected in the spring of 2020. Tenants are expected to move in in early 2020, all of whom align with Community Solutions' mission to create a just and equitable society where homelessness is never inevitable, inescapable, or a way of life.
"The Swift Factory was once an economic engine for the northeast neighborhood of Hartford, providing over 300 jobs at the height of its operation as one of the world's largest gold leaf manufacturers. Thanks to the generous support of the US EPA through the CT DECD, Community Solutions has been able to transform this long abandoned and blighted building into an engine for jobs and entrepreneurship for the community, particularly in the food industry. The funds provided by the US EPA were used to remediate the soil and groundwater around the factory building, which now host rain gardens and bioswales demonstrating sustainable rainwater management practices to the region."

Rosanne Haggerty, President
Community Solutions
Today

This exciting redevelopment at the Swift Factory will create jobs in health care, food service and food manufacturing. Tenants include a food manufacturing hub with a shared commercial kitchen available to individual and small businesses, health care clinic, and nutritional, health and educational programs. Swift Factory will house a commissary kitchen for the locally owned, Missouri‐style BBQ Smokehouse, which will produce its own line of condiments and spices and put Hartford on the map for trendy cuisine. An indoor hydroponic farming company will lease almost 50% of the building. The food business incubator offers 10 food production spaces with shared facilities encouraging entrepreneurship. Shared office space is available for community‐oriented. The community Health Hub will provide health care and prevention services to address the specific needs of the neighborhood. Local and visiting artists, chefs, story tellers, and farmers will be able to use the community art space to share experiences, crafts and creativity. With significant financial investment from EPA's Brownfields program and more than 40 other organizations, the Swift Factory has been restored to create a better quality of life, including better health care options, in a well‐deserving neighborhood.
The new use of the historic Swift Factory considers the economic, health, social and cultural, and environmental conditions of North Hartford and creates a sustainable, yet innovative model for improving the quality of life. Community Solutions has worked with neighborhood residents, city leaders and organizations in the community to help remake the factory into something that creates much‐needed jobs, improves community health and brings new life to the neighborhood.
For more information:
Visit the EPA Brownfields website at www.epa.gov/brownfields or contact Dorrie Paar at 617-918-1432, paar.dorrie@epa.gov.
EPA 560 A 19 001
September 2019