Brownfields and Land Revitalization in EPA Region 3
The EPA Brownfields Program in Region 3 provides grants and technical assistance to communities and states in Delaware, Maryland, Pennsylvania, Virginia, West Virginia, and the District of Columbia. Brownfields grants and technical assistance can be used to assess, safely clean up and sustainably reuse contaminated properties. Land Revitalization Programs in Region 3 assist communities, local governments, property owners and developers in restoring land and other natural resources into sustainable community assets.
Please visit the national Brownfields Program and Land Revitalization websites for more information about brownfields, competitive grants and national program benefits.
 
On This Page:
Technical Assistance to Brownfields
Targeted Brownfields Assessments
Application Resources
Grant Recipient Materials
Stories from Around the Region
Highlights from Region 3
State Cleanup Programs within Region 3
Region 3 State & Tribal Response Program Agreements
---
Technical Assistance to Brownfields
EPA's Technical Assistance to Brownfields Communities (TAB) program provides free technical assistance to communities to increase their understanding and involvement in brownfields cleanup, revitalization and reuse.  The TAB program is funded by EPA and available to all stakeholders.  West Virginia University Research Corporation offers free technical assistance for all Mid-Atlantic communities and training program services to EPA Brownfields grantees and to those seeking brownfield grants in Region 3. For more information visit the West Virginia University TAB website: https://brownfields.wvu.edu/. For information on regional and state webinars, and other Brownfields-related events, visit https://brownfields.wvu.edu/events.
Targeted Brownfields Assessments (TBAs)
EPA provides environmental assessment services free of charge to communities through the Targeted Brownfields Assessment (TBA) program. Services typically include Phase I and II assessments and cleanup planning.  To request a TBA, please read how to apply below. 
Materials for Brownfields Grants
Application Resources 
EPA solicits proposals for Brownfields Assessment, Cleanup and Revolving Loan Fund grants annually, generally in the fall. For information on how to apply, please refer to the Proposal Guidelines, which are released along with the Request for Applications each grant cycle. EPA Region 3 has prepared additional materials to assist you in applying for a Brownfields grant:
Grant Recipient Materials
After the application package has been reviewed and found eligible, reporting requirements must be adhered to through the life of the grant. Please see: Grantee Reporting Requirements: Forms and Templates
Stories from Around the Region
Highlights from Region 3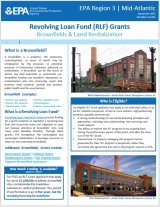 Revolving Loan Fund Grants provide funding for a grant recipient to capitalize a revolving loan fund and to provide loans and sub-grants to carry out cleanup activities at brownfield sites over many years. Through these grants, EPA strengthens the marketplace and encourages stakeholders to leverage resources to clean up and redevelop brownfields. Check out our new Revolving Loan Fund Grants Fact Sheet (pdf) (438.24 KB, 2022) to learn more.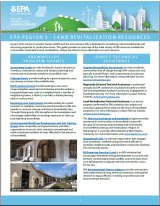 As part of its mission to protect human health and the environment, EPA is dedicated to revitalizing contaminated lands and returning properties to productive reuses. The  Land Revitalization Resource Guide (pdf) (4.54 MB, 2022) offers an overview of the wide variety of EPA resources available for Mid-Atlantic communities interested in land revitalization, and provides links to find further information on each resource. The guide includes information on Brownfields Program Grants, Direct Technical Assistance, resources from EPA's Office of Land and Emergency Management and Office of Brownfields and Land Revitalization, Smart Growth programs, Environmental Justice grants, mapping tools, case studies, legal resources, and more.

 
Region 3's Greener Cleanup & Sustainable Reuse Policy
The Land Reuse Assessment Reports outline the history and current status of remediated properties in Region 3. These reports reveal that former hazardous waste sites, abandoned factories, and landfills are being redeveloped into new businesses, townhomes, ball fields and wildlife refuges.  These efforts saved valuable green space, boosted local economies, and revitalized blighted communities. Read the Region 3 Land Reuse Assessment Reports for more information.
State Cleanup Programs within Region 3
The following links exit the site
Region 3 State & Tribal Response Program Agreements
News and Events
Sign up for email updates: