Brownfields and Land Revitalization in Washington, Idaho, Oregon and Alaska
This page provides information about EPA's Brownfields activities in Alaska, Idaho, Oregon and Washington (Region 10).
Free Technical Assistance to Brownfields Communities

A Targeted Brownfields Assessment is an environmental investigation designed to document environmental conditions at a property under consideration for redevelopment. EPA can provide communities and nonprofit organizations with environmental assessment services at brownfield properties with redevelopment potential. 

Stories from Around the Region

Successful Region 10 Brownfield Redevelopment Projects
---
State Cleanup Programs
Below are links to the state Brownfields program offices.
The following links exit the site Exit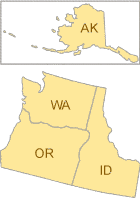 ---
Federally Recognized Tribes with 128(a) Brownfields Programs
Douglas Indian Association, Alaska
Kuskokwim River Watershed Council (KRWC), Alaska
Native Village of Tazlina