Microirrigation

Microirrigation is a low-pressure, low-flow-rate type of irrigation that can reduce the likelihood of overwatering a landscape. This form of irrigation delivers water directly to where it is needed most-the root zone of plants. It also delivers the water slowly and over a longer period of time, preventing runoff and reducing evaporation. Microirrigation systems use 20 to 50 percent less water than conventional sprinkler systems and can reduce residential or commercial landscape irrigation water use.
WaterSense has developed two guides to help irrigation professionals and homeowners understand the benefits of microirrigation. The guides also provide design, installation, and maintenance tips, which are the keys to an efficient irrigation system.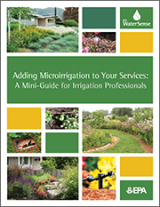 Adding Microirrigation to Your Services: A Mini-Guide for Irrigation Professionals(16 pp, 8 MB, About PDF) explains how designing, installing, or retrofitting an existing system with microirrigation can help your customers save water and enhance plant health.
This guide provides an overview of the benefits, design considerations, installation considerations, scheduling, and maintenance of a microirrigation system. It also includes helpful tips for troubleshooting microirrigation systems that may not be watering efficiently and suggestions for improvement.
The main benefit of microirrigation is efficient water delivery at the root zone, although there are a variety of secondary benefits that make this type of system a preferred choice in many landscape settings.
---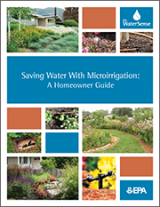 Saving Water With Microirrigation: A Homeowner Guide(8 pp, 9 MB, About PDF) describes the types of landscapes where microirrigation works best and suggests how to work with an irrigation professional to design and install a system.
This guide provides an overview of the benefits of microirrigation, where it works best, how to use it efficiently, and tips for the do-it-yourselfer on how to design, install, and maintain a microirrigation system.
Installing a microirrigation system instead of a traditional system can save a typical home more than 25,000 gallons of water per year.
---
Watch and Learn
The Long Beach (CA) Water Department's Smart Irrigation Program has developed a series of short videos that provide information about drip irrigation.  The following links exit the site:
Part 1 – Why Drip?
Part 2 – Three Popular Drip Systems and their Components
Part 3 – Troubleshooting and Caring for Your Drip System