Soil Moisture-Based Control Technologies

Residential outdoor water use in the United States accounts for nearly 9 billion gallons of water each day, mainly for landscape irrigation. As much as half of this water is wasted due to evaporation, wind, or runoff, often caused by improper irrigation system design, installation, maintenance, or scheduling. In 2011, WaterSense released a specification for weather-based irrigation controllers.  However, this specification did not address soil moisture-based technologies.
Why a Specification?
The majority of irrigation systems use manually programmed clock timers, for which the homeowner, building owner, or irrigation professional schedules watering events and times. Because schedules are often set to water at the height of the growing season and might not be adjusted to reflect seasonal or changes or watering needs, an irrigation system could be watering in January as if it were July. Similarly, manually programmed clock timers don't adjust for recent weather events, so systems without sensor technologies will water regardless of whether it has just rained.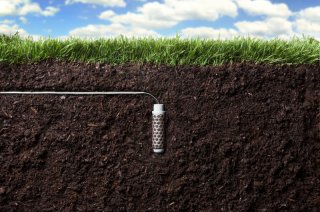 Irrigation soil moisture sensor (Image courtesy of Hunter Industries, Inc.)Soil moisture-based control technologies water plants based on their needs by measuring the amount of moisture in the soil and tailoring irrigation schedules accordingly. Studies suggest that soil moisture sensors can result in water savings of at least 20 percent, potentially saving millions of gallons of water across the country. Soil moisture-based control technologies that earn the WaterSense label will take the guesswork out of watering and help improve irrigation system efficiency.
Notice of Intent
In May 2013, WaterSense issued a notice of intent (NOI) to develop a specification for bypass-type soil moisture-based control technologies that will complement the existing WaterSense weather-based irrigation controller specification. 
Status
Since the issuance of the NOI, WaterSense has been working with the American Society of Agricultural and Biological Engineers (ASABE) as it develops a performance test standard for these technologies (S633, Testing of Soil Moisture Sensors for Landscape Irrigation)EXIT.  The committee has made significant progress towards a final test mothod and is generating a set of performance data WaterSense will use to develop performance criteria for this product category.  WaterSense provided a specification update in December 2017 to document progress made to date and remaining research needs.  For questions about information included in this document or the WaterSense specification development process, please contact  watersense-products@erg.com.