Pool Water Efficiency
Pools provide a fun and relaxing way to keep cool during warmer months. However, if not maintained with water efficiency in mind, your pool could be sending water and money down the drain. Pools can consume water through evaporation, pool cleaning, leaks, and splashing. Investing in new equipment or employing targeted maintenance techniques can save water, energy (for heated pools), and money. 
Pool Guide
WaterSense has developed a guide for residential pool owners and maintenance professionals to help them to understand and implement water-efficient pool practices. The guide provides an overview of design considerations, retrofits, and maintenance practices that are aimed to improve the water efficiency of pools. While the guide is focused on residential pools, many of the practices can also be used for commercial pools and spas. 
Pool Covers
During warmer months, evaporation from swimming pools contributes to substantial water waste. Pool owners nationwide can use pool covers to prevent evaporation, reducing the amount of water needed to maintain the pool water level.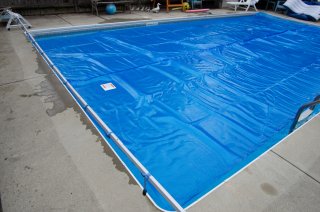 Pool covers can be used on indoor and outdoor pools, as well as in-ground and above-ground pools, of almost any size or shape. Using a pool cover can prevent up to 95 percent of pool water evaporation.  
Pool covers are available in a range of materials and designs and can provide additional benefits to pool owners, such as reducing cleaning requirements, reducing chemical use, and providing a measure of safety to prevent animals and children from drowning. Pool covers can also be manually, semi-automatically, or automatically controlled. When applied consistently and appropriately, pool covers can both reduce pool water evaporation and help the pool water retain heat, which together contribute to water, energy, and cost savings for pool owners.
In 2018, EPA issued a Notice of Intent (NOI) to develop a WaterSense® specification for pool covers to help reduce water waste in swimming pools. After research and consideration, WaterSense has decided not to move forward with a specification for this product category.  The WaterSense label is intended to differentiate products based on their water efficiency; and research indicates that all solid pool covers, if used properly, save water and there is little difference in savings between many types of covers. Instead, WaterSense developed the guide featured on this page, to promote the design and management of pools with water efficiency in mind, including selection and use of pool covers.  The NOI, materials from a public meeting, and public comments received on the NOI are available on the Products Background Materials page.